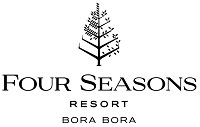 Our client Four Seasons Bora Bora recruits.
Here are key information and job vacancies.
Four Seasons Resort Bora Bora combines the romance of a South Seas island with all the trappings of a luxury hotel - and reinvents staying on the water.

The sight of Mount Otemanu never gets old. Towering above this South Pacific coral island's vast blue lagoon, its green volcanic cone is the vista from the deck of your over-the-water lodgings at Four Seasons Resort Bora Bora. The 1,080 sq. ft., thatch-roofed bungalow's high-ceilinged living room features teak furniture and Polynesian artwork. Adding even more light to its marble bathroom is a lagoon-view glass panel set in the floor.

With 121 rooms and suites - including seven beachfront villas - Four Seasons Resort Bora Bora revels in its breathtakingly beautiful setting. Enjoy fresh seafood on the terrace at waterside Arii Moana, or a private sunset dinner on the beach, accompanied by Polynesian music. Dusk is also prime time to hoist a Bora Bora cocktail at Sunset Restaurant and Bar.

Between that beach expedition and catamaran tour, check into the spa, which overlooks the palm tree-fringed lagoon. Treat yourself to a warm-seashell massage in the view spa suite.




1 available positions




Join Four Seasons Bora Bora
on their social networks



Address:
Motu Tehotu, BP 547
98730 Bora Bora
French Polynesia






Luxury Hospitality Career post job offers in upscale hotels and gourmet restaurants worldwide and provide a complete toolbox to follow the applications: job alerts, application notebook, job notebook, files, newsletter... to guide you, whether you are actively seeking a new job or just on standby.