Sought position:
Housekeeping coordinator
Ref ID: n°29737
Town: London
Country : United Kingdom
Contract type: Long term contract
Contract start date : April 2017
Salary: £23,000 per year plus Hotel Service charge
Experience: experienced
Job status: Supervisor
Job category: Accommodation / Rooms
Accomodation: No Accommodation provided
Online since 2017/04/13
This job position is still available for the week of 2017-04-24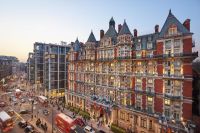 Mandarin Oriental Hyde Park London is looking for...
Housekeeping coordinator (M/F)
JOB DESCRIPTION
The Hotel
One of the capital's most distinguished hotels created with luxurious English elegance. Offering fine views over the Royal Park and chic shops of Knightsbridge, Mandarin Oriental Hyde Park is a highly fashionable address in London.

Tools/Equipment Used

SMS and Information computer systems, telephone, Outlook, Pager, HOTSOS


Daily Duties


To ensure that grooming standards are maintained by the team whilst personally presenting a professional image
To ensure all signing-in and out procedures are being performed accurately
To follow key control procedures and conduct daily key inventories
To control usage of pagers / Ipads /phines and keep record accordingly
To conduct daily briefings in order to provide up to date information
To perform all duties relating to the opening and closing of the housekeeping department, ensuring an efficient and proactive service for our guests
To perform all daily duties to ensure that service areas are checked and maintained to the standard required
To identify and report any training and development needs among the team
To ensure that all Legendary Quality standards are implemented and maintained throughout the department
To record and store all lost property items accurately and according to the stipulated guidelines, including correspondence with guests for returned items
To handle and follow up all lost property enquiries from guests according to standard and providing exceptional service
To ensure that any malfunctioning equipment and maintenance problems are reported and follow-up is given
To encourage and support the room attendants team in order to establish guest requirements/preferences and to provide service accordingly
Liaise with reception to prioritise room cleaning
Communicate with other departments for guest requests and maintenance and follow up accordingly
To manage and control the handling of DVD players and films in co-operation with engineering and floor supervisors and to conduct weekly inventories
To monitor, control and keep record of the daily flower order for guest rooms, communicating with florists and floor supervisors
To complete weekly timesheets for agency staff and communicate with agency contact person
To work with the Executive Housekeeper ensure all housekeeping colleagues are scheduled accordingly to complete any required MOHG or hotel specific training and inform the floor managers / Head housekeeper of any additional training requirements required
To print and file back-up reports to be prepared for downtime emergency procedure
To complete any other reasonable task as assigned by the Senior Housekeeping Co-ordinator or any other Manager.


Occasional Duties

To organise annual holiday planner
To organise and plan the monthly roster, considering occupancy, operational needs and each colleague's requests
To carry out any other reasonable requests as directed by your manager
PROFILE
Duties and Responsibilities
Major Responsibilities

To organise and monitor operations in housekeeping
To monitor and control Lost & Found procedure
To create a safe, comfortable and friendly working environment to enable the team to deliver an outstanding overall level of service
To support the senior housekeeping coordinator
To assist with all request from the Floor Managers and Head Housekeeper
COMPANY OVERVIEW
A Career with Mandarin Oriental Hotel Group opens up a wealth of exciting opportunities for you, both now and for your future development.

Our Vision is to be widely recognised as the best luxury hotel group in the world. The Group is renowned for creating a culture that provides a motivating and rewarding environment in which to thrive.

The people who work for Mandarin Oriental are the Group's most prized asset, bringing a quality and commitment to their work that is exceptional in the world of luxury hospitality. As a result, we provide outstanding, personalised service and earn numerous industry awards for exceptional quality.

The Mandarin Oriental Hyde Park London - One of London's most celebrated five-star hotels, Mandarin Oriental Hyde Park exudes an enticing mix of elegance and luxury. With world-famous restaurants and a stunning spa, we offer a fashionable and timeless base in the centre of the British capital.
IMPORTANT: please do not contact Luxury Hospitality Career for questions regarding the offers, especially to know what happened to your application. We thank you for contacting directly the establishment.
Print this job
Add to my selection
Job notification
SHARE THIS JOB WITH YOUR FRIENDS AND YOUR NETWORKS